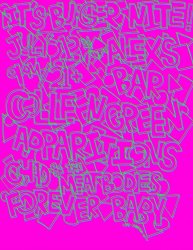 BURGER RECORDS NIGHT- COLLEEN GREEN, APPARITIONS (EX GESTAPO KHAZI), CHAD AND THE MEATBODIES, FOREVER BABY
$5 IF YOU WEAR YOUR BURGER PIN
July 12, 2012 9:00 pm
- 1:00 am
Add to Cal
//=$other_events?>
Time: 9:00pm Day: Thursday Doors: 8:00pm Ages: 21+ Ages Price: $7
This Event Has Ended
Colleen Green
Colleen Green always wears sunglasses onstage. Colleen Green is long hair and getting high. Colleen Green's first full-length for Hardly Art, Sock it to Me, is grounded in pure pop. Colleen Green's multi-tracked, emotive vocals take an enormous leap forward, evoking all-time heroes such as Rose Melberg and Tina Weymouth, with every drum-machine-tracked song awash in the dreamy slacker romanticism of California.
Colleen Green on Last.fm
.
User-contributed text is…
Apparitions
Their are two bands with the name Apparitions. 1. A Technical deathcore band from Phoenix, AZ. (2011-Present)
2. A Post hardcore band. Apparitions, is a technical metal band from Phoenix, Arizona comprised of vocalist Griffin Kolinski, and guitarist Brian McNulty, both formerly of
Knights Of The Abyss
, guitarist Winston Weems, formerly of
Giants Among Us
, bassist Cory Hibbert, and drummer Mark Gray
Read more about Apparitions on Last.fm
.