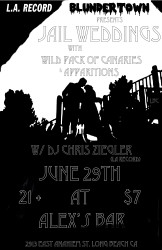 BLUNDERTOWN PRESENTS
JAIL WEDDINGS, WILD PACK OF CANARIES, APPARITIONS (EX GESTAPO KHAZI)
June 29, 2012 9:00 pm
- 1:00 am
Add to Cal
//=$other_events?>
Time: 9:00pm Day: Friday Doors: 8:00pm Ages: 21+ Ages Price: $7
This Event Has Ended
Jail Weddings
With the end of his post-Starvations project Fortune's Flesh, singer/guitarist Gabriel Hart has gathered like-minded adventurers to roundout the line-up of his new outfit JAIL WEDDINGS - an updated take on the darker side of the '60s girl group blueprint with swamp-pop leanings, all combined with mean-streak mutant torch song drama. The band will reside very happily in Los Angeles, CA until further notice.
Read more about Jail Weddings on Last.fm
.
Wild Pack Of Canaries
Apparitions
Their are two bands with the name Apparitions. 1. A Technical deathcore band from Phoenix, AZ. (2011-Present)
2. A Post hardcore band. Apparitions, is a technical metal band from Phoenix, Arizona comprised of vocalist Griffin Kolinski, and guitarist Brian McNulty, both formerly of
Knights Of The Abyss
, guitarist Winston Weems, formerly of
Giants Among Us
, bassist Cory Hibbert, and drummer Mark Gray
Read more about Apparitions on Last.fm
.